KEY FEATURES
Firmness Rating:



Mattress Thickness: 13″ approx.
Box Spring: 8″ standard, or 6″ low profile upon request
– Ultra Luxurious Viscose Fabric
Ultra Luxurious Viscose Fabric
Ultra Luxurious and hypoallergenic viscose fabric covering ventilates body heat to sleep more comfortably. The fabric is woven on precision computerized looms to exacting and consistent specifications.
– Alpaca and French Wool Blended Layer
Alpaca and French Wool Blended Layer
Premium Alpaca fibers are blended together with French wool to create an all natural and breathable layer for ventilation of body heat. Alpaca fleece is a soft, durable and luxurious natural fiber harvested from an Alpaca, which resembles a small Llama in appearance. They live in herds that graze in the high altitudes of South America in Peru, Ecuador, and Chile. Alpaca fiber is in an elite group of exotic natural fibers.
Our French Wool is hypoallergenic, resistant to mold, mildew, and dust mites, and the naturally coil shaped wool fibers dissipate excess body heat and moisture to create an optimally dry and neutral temperature zone for a sound night's sleep.
– Natural Flame Barrier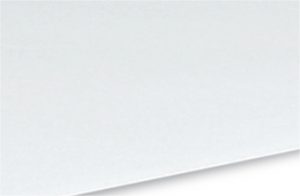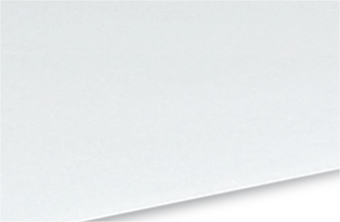 Natural Flame Barrier
– Made with wood pulp and silica (sand)
– No carcinogenic chemicals (Prop.65 Compliant)
– Soft, silky, and flexible feel enhances overall comfort
– Compostable, environmentally friendly
– Prevents flames from penetrating to inside of mattress
– Considered a natural product by U.S. Trade Commission
– Comfort Fill for Added Plushness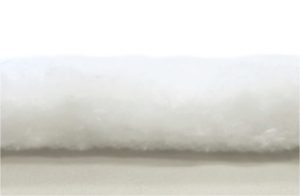 Comfort Fill for Added Plushness
Located underneath the French Wool layer is a layer of odorless Comfort Fill hypoallergenic polyester fiber for added plushness.
– Talalay Latex Cushioning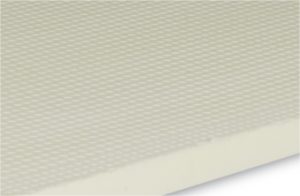 Talalay Latex Cushioning
A soft and thick layer of Talalay latex provides additional relaxation and pressure point relief. Its pincore construction allows body heat to ventilate. Latex is derived from the milky white sap of rubber tree plantations, and then processed at a modern plant in the Netherlands to exacting standards of quality.
– Quilted French Wool Support Layer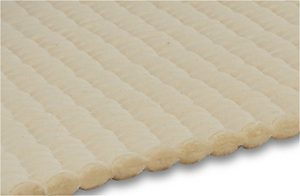 Quilted French Wool Support Layer
Pre-compressed French Wool is specially quilted into a dense support pad to provide support of the padding materials on top of the innerspring unit. We quilt the French wool with a special stretch knit cotton fabric to provide extra give and flexibility to allow the Dream Spring 3100-S pocketed innerspring unit to conform to the body's natural contours.
– Dream Spring 3100-S German Pocketed Innerspring Unit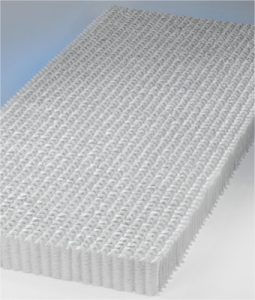 Dream Spring 3100-S German Pocketed Innerspring Unit
Top of the Line – After extensive research and testing, we found the Dream Spring 3100-S Individually pocketed innerspring unit to be the finest available.
Individually Pocketed Coil System – Each coil spring is individually pocketed in its own sleeve, so that it can move independently, conforming to the body's contours like no other, and motion transfer is minimized.
One of the Highest Coil Counts in a single layer of springs – The 3100-S means that in a single layer spring unit (without stacking one on top of the other), there are approximately 3100 coils in a queen size mattress, and almost 4000 coils in a king size mattress. While most pocketed springs are about 2″ in diameter, the Dream Spring is about 1″ in diameter – about the size a person's thumb, which translates into an ultra-high end and conforming innerspring unit for the ultimate in support and comfort.
– 12-Turn Progressive Springs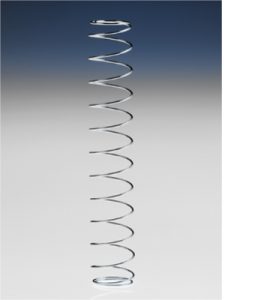 12-Turn Progressive Springs
More than double the amount of coil turns – While other spring units contain 4 to 6 turns, the Dream Spring technology features 12 turn coils, which provide micro sensitive response to body contours.
Progressive Spring Support – The initial feel is soft, and progressively gets firmer as more body weight is applied, which results in a supple feel combined with overall buoyant support at the same time.
High Quality Steel – The coils are specially heated to the point where the molecules line up like the grain in wood creating more strength. This makes European steel wire strong and durable, and also provides superior elasticity for better resistance to sag, while maintaining flexibility for soothing comfort and pressure point relief.
– Two Sided Construction for Longevity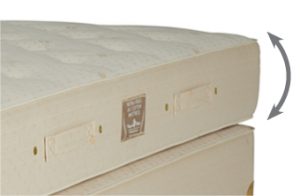 Two Sided Construction for Longevity
– Royal-Pedic mattresses are built with an equal amount of materials on each side of the mattress, so you can turn the mattress over and sleep on the other side.
– Double Sided mattresses can enhance longevity. Mattresses that are no-flip designs, are only built with padding on one side, so you can't flip it over.
– Dream Spring Box Spring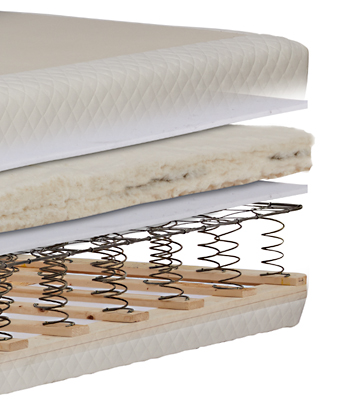 Dream Spring Box Spring
Traditional Cone Shaped Coils – Provides a plush suspension feel, while maintaining bouyant support. This provides an additional layer of suspension to work in concert with the mattress for sleeping comfort.
5 Star Wide Slat Wood Foundation – Coils are mounted to FSC Canadian forestry wood, extra wide slats provide a better surface area for the finest in durability and support.
Webster Lock Grid System – Coils lock into the webster lock grid system to provide a sturdy connection to keep coils in place for excellent mattress support.
High Quality Upholstery – Our craftsman hand upholster the box spring with our insulator pad, layers of staple cotton, natural fire barrier, Belgian viscose covering, and cotton fabric undercloth.